Fight the Symptoms of Frustration with Dial a Nerd's IT Support
When you're having computer trouble, sometimes the answer is a bit more complicated than "turning it off and on again". If an important presentation looms or a deadline must be met, an uncooperative computer or network can induce palpitations, cold sweats, bouts of frustration and other painful symptoms.
These symptoms become even more aggravated when effective IT support is slow to respond, unavailable or simply uninterested. The reality is, in a world where we live on our computers and in the cloud more than ever before, IT support is the cornerstone of any business.
Contact Us
Smart IT means smarter work
There is a cure for those cold sweats and all the other warning signs of computer-related frustration. All that's required is that you consult a qualified professional with the right bedside (or rather deskside) manner, who is both sympathetic and practically equipped to help you get back to work as soon as possible.
A good IT team can also help you avoid frustration in the first place, by ensuring that all network security protocols are working for you, virus protection and firewalls are effectively in place, software is up to date and network connectivity is optimized.
There's more to providing IT support than simply answering the call when someone is in trouble – though that is a big part of the job. IT works behind the scenes, often when you don't even know it.
They are the unsung and unseen heroes tasked with making sure that networks don't crash, and employees have all the right tech at their fingertips, no matter what industry they're in.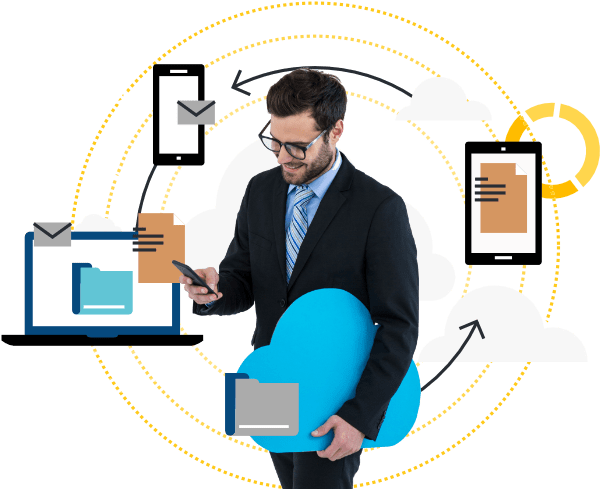 IT in a nutshell
A professional IT team's job is to proactively implement a framework and systems that mean you don't really ever have to think about IT – because everything just works. Presentations are done on time; deadlines are met, hearts beat at a regular pace and there are no cold sweats necessary.
When crunch time is here and you have important work to do, your office software shouldn't let you down, and a fast, reliable network connection should be non-negotiable. It's time to bring IT support up and out of that basement office and allow the nerds to show their true heroism in the workplace.
If your IT support systems are causing unpleasant symptoms, perhaps it's time for a change. Get the right nerds for the job and you'll never have to think about IT again.
IT is not for everyone. It's a highly specialized and professional discipline that requires savvy, knowledge and qualifications. Besides that, most people have other jobs to do, and don't have the time or inclination to worry about IT infrastructure and support.
Dial a Nerd offers a complete IT support package, covering maintenance, network support, computer repairs & sales, cloud backup services and anything else your business needs, big or small.
We also create custom-built cloud-based software for point of sale, project management, quoting and invoicing, timesheets and more. Dial a Nerd is your turnkey IT solution for home and business. Get in touch today and we'll get one of our qualified nerds on the case for you.